Preachers Rock, Preikestolen, Norway
Preikestolen or Prekestolen, also known by the English translations of Preacher's Pulpit or Pulpit Rock, and by the old local name Hyvlatonnå ("the carpenter-plane's blade"), is a massive cliff 604 metres (1982 feet) above Lysefjorden, opposite the Kjerag plateau, in Forsand, Ryfylke, Norway. The top of the cliff is approximately 25 by 25 metres (82 by 82 feet), almost flat, and is a famous tourist attraction in Norway.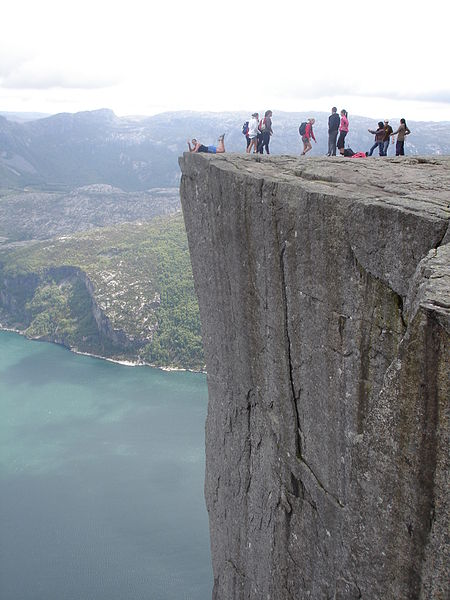 The tourism at the site has been increasing, around 2012, the plateau was each year visited by between 150,000 and 200,000 people who took the 3.8 km (2.4 mi.) hike to Preikestolen, making it one of the most visited natural tourist attractions in Norway.
The Pulpit Rock is located in Ryfylke, Rogaland, a county in Western Norway. The city of Stavanger, the fourth largest in Norway, is located only 25 kilometers from the site, and the parking facility of the Pulpit Rock is located about one hour from Stavanger by ferry and car.
The road to the site ends at a parking facility at Preikestolen Fjellstue. A trail extends from the parking facility to the site, which goes through a variety of mountain landscapes. A trip to Preikestolen from the closest car park takes about 3-4 hours for a round-trip hike.