Mystery of the plain of Jars – Laos
The Plain of Jars is a megalithic archaeological landscape in Laos. Giant stone jars of unknown ancient origin are scattered over hundreds of square kilometres around the upland valleys and the lower foothills of the central plain of the Xieng Khouang plateau.
The jars lie in clusters on the lower footslopes and mountain ridges of the hills surrounding the central plateau and upland valleys. Several quarry sites have been recorded, usually close to the jar sites. Five rock types have been identified:sandstone, granite, conglomerate, limestone and breccia.
The majority of the jars are sandstone. It is assumed that Plain of Jars' people used iron chisels to manufacture the jars, although no conclusive evidence for this exists. Regional differences in jar shape have been noted. While the differences in most cases can be attributed to choice and manipulation of rock source, some differences in form (such as variations in the placement of jar apertures) appear to be unique to specific sites.
Nobody Knows, who and why, these jars Created. Lao legends tell of a race of giants who inhabited the area and who were ruled by a king, named Khun Cheung, who fought a long and ultimately victorious battle against an enemy. He supposedly created the jars to brew and store huge amounts of alcohol to celebrate his victory.
Another local story states that the jars were molded from natural materials including clay, sand, sugar, and animal products in a type of stone mix. This led the locals to believe the cave at Site 1 was actually a kiln, and that the jars were fired there and are not actually hewn from stone.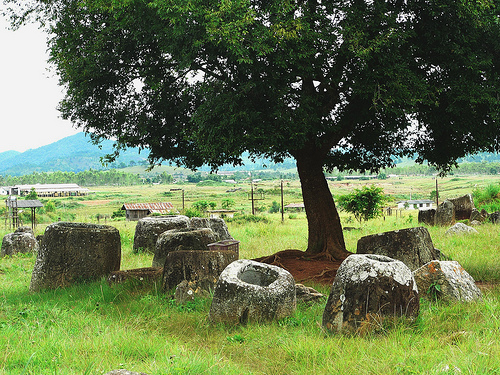 Another suggested explanation for the jars' use is to collect monsoon rainwater for caravan travelers along their journey at times when rain may have been seasonal and water was not readily available on the easiest foot paths. Rainwater would then be boiled, even if stagnant, to become potable again, a practice long understood in Eastern Eurasia. The trade caravans that camped around these jars could have placed beads inside them as offerings, accompanying prayers for rain. Or the beads might simply have been unassociated lost items.