Capilano Suspension Bridge – Vancouver, British Columbia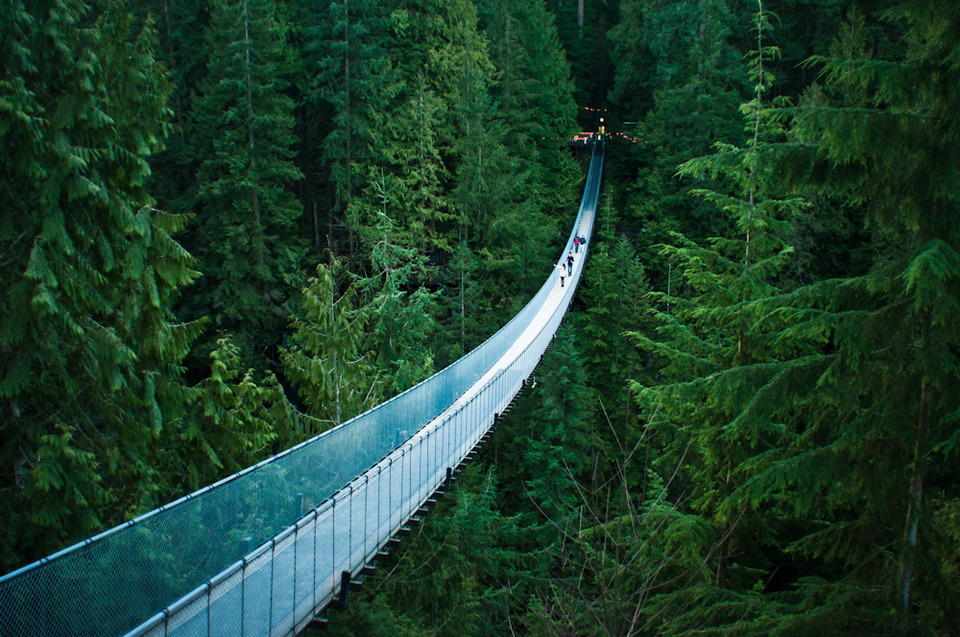 The Capilano Suspension Bridge is a simple suspension bridge crossing the Capilano River in the District of North Vancouver, British Columbia, Canada. The current bridge is 140 metres (460 ft) long and 70 metres (230 ft) above the river. It is part of a private facility, with an admission fee, and draws over 800,000 visitors a year.
The bridge was originally built in 1889 by George Grant Mackay, a Scottish civil engineer and park commissioner for Vancouver. It was originally made of hemp ropes with a deck of cedar planks, and was replaced with a wire cable bridge in 1903. In 1910 Edward Mahon purchased the Capilano Suspension Bridge. "Mac" MacEachran purchased the Bridge from Mahon in 1935 and invited local natives to place their totem poles in the park, adding a native theme. In 1945, he sold the bridge to Henri Aubeneau.
The bridge was completely rebuilt in 1956.
The park was sold to Nancy Stibbard, the current owner, in 1983. Annual attendance has since increased, and in May 2004, Treetops Adventures was opened. This new attraction consists of seven footbridges suspended between old-growth Douglas Fir trees on the west side of the canyon, forming a walkway up to 30 metres (98 ft) above the forest floor.