The Akshardham Temple – Largest Hindu Temple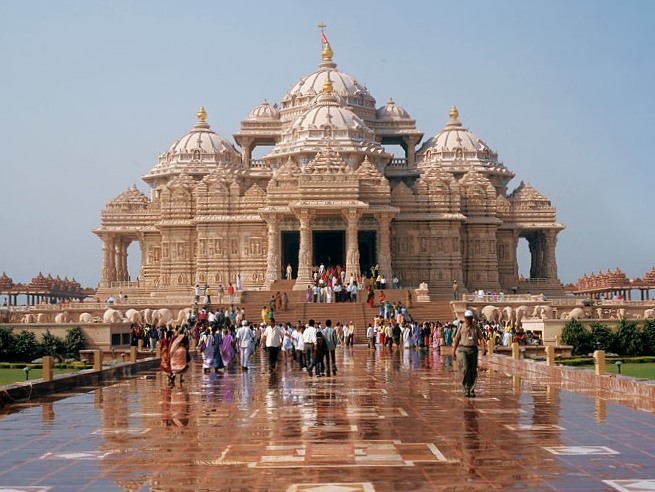 The Akshardham temple in Indian capital New Delhi measures 356 ft. long, 316 ft. wide and 141 ft. high, covering an area of 86,342 sq. ft. and has set the world record for the Largest Hindu Temple.
The building was inspired and developed by Pramukh Swami Maharaj, the spiritual head of the Bochasanwasi Shri Akshar Purushottam Swaminarayan Sanstha, whose 3,000 volunteers helped 7,000 artisans construct Akshardham.
The temple, which attracts approximately 70 percent of all tourists who visit Delhi, was officially opened on 6 November 2005. It sits near the banks of the Yamuna adjacent to the 2010 Commonwealth Games village in eastern New Delhi. The temple, at the center of the complex, was built according to the Vastu Shastra and Pancharatra Shastra. In addition to the large central temple crafted entirely of stone, the complex features exhibitions on incidents from the life of Swaminarayan and the history of India, an IMAX feature on the early life of Swaminarayan as the teenage yogi, Nilkanth, a musical fountain on the message of the Upanishads, and large landscaped gardens. The temple is named after a belief in Swaminarayan Hinduism.
The main monument, at the center of the complex, is 141-foot (43 m) high, 316-foot (96 m) wide, and 356-foot (109 m) long, and is covered top to bottom with carved details of flora, fauna, dancers, musicians, and deities.
Designed in accordance with ancient Vedic text known as the Sthapatya Shastra, it features a blend of architectural styles from across India. It is constructed entirely from Rajasthani pink sandstone and Italian Carrara marble, and has no support from steel or concrete. The monument also consists of 234 ornately carved pillars, nine domes, and 20,000 murtis and statues of Hinduism's sadhus, devotees, and acharyas. The monument also features the Gajendra Pith at its base, a plinth paying tribute to the elephant for its importance in Hindu culture and India's history. It contains 148 scale sized elephants in total and weighs a total of 3000 tons.
Within the monument, under the central dome, lies a murti or statue of Swaminarayan which is 11-foot (3.4 m) high. The murti is surrounded by similar statues of the gurus of the sect. Each murti is made of paanch dhaatu or five metals in accordance to Hindu tradition. Also within the central monument lie the murtis of other Hindu deities, including Sita Ram, Radha Krishna, Shiv Parvati, and Lakshmi Narayan.