Racetrack Playa
The Racetrack Playa, or The Racetrack, is a scenic dry lake feature with "sailing stones" that leave linear "racetrack" imprints. It is located above the northwestern side of Death Valley, in Death Valley National Park, Inyo County, California, U.S.
Racetrack is dry for almost the entire year and has no vegetation. When dry, its surface is covered with small but firm hexagonal mud crack saucers that are typically 3 to 4 inches (7.5 to 10 cm) in diameter and about an inch (2.5 cm) thick. During the bimodal rainy season (summer and especially winter) a shallow cover of water deposits a thin layer of fine mud on and between the saucers of Racetrack. Heavier winter precipitation temporarily erases them until spring when the dry conditions cause new mud cracks to form where the old ones had been. Sandblasting wind continually helps to round the edges of exposed saucers. Annual precipitation is 3 to 4 inches (75 to 100 mm) and ice cover can be 1 to 2.5 inches (2.5 to 6.5 cm) thick. Typically only part of the playa will flood in any given year.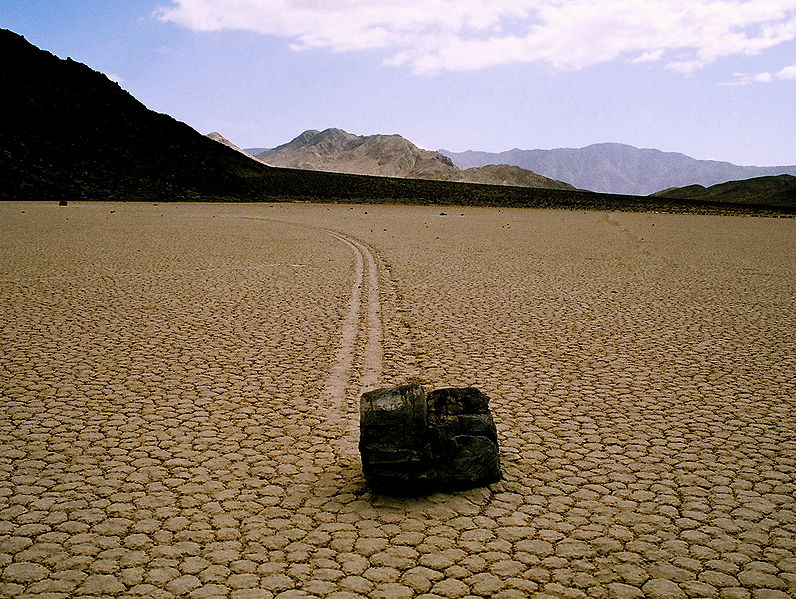 The sailing stones are a geological phenomenon found in the Racetrack. The stones slowly move across the surface of the playa, leaving a track as they go, without human or animal intervention. They have never been seen or filmed in motion. Racetrack stones only move once every two or three years and most tracks last for three or four years. Stones with rough bottoms leave straight striated tracks while those with smooth bottoms wander.
The sailing stones are most likely moved by strong winter winds, reaching 90 mph, once it has rained enough to fill the playa with just enough water to make the clay slippery. The prevailing southwest winds across Racetrack playa blow to northeast. Most of the rock trails are parallel to this direction, lending support to this hypothesis
An alternate hypothesis builds upon the first. As rain water accumulates, strong winds blow thin sheets of water quickly over the relatively flat surface of the playa. A layer of ice forms on the surface as night temperatures fall below freezing. Wind then drives these floating ice sheets, their aggregate inertia and large area providing the necessary force required to move the larger stones. Rock trails would again remain parallel to the southwest winds. According to investigator Brian Dunning, "Solid ice, moving with the surface of the lake and with the inertia of a whole surrounding ice sheet, would have no trouble pushing a rock along the slick muddy floor.