World's Most Beautiful Highway-Oberalp Pass Highway
Oberalp Pass highway is a high mountain pass in Switzerland connecting the cantons of Graubünden and Uri between Disentis and Andermatt. It is located 2044 meters above the sea level in the Swiss Mountain that's serves as a link between Central Switzerland and the Graubunden Oberland. This incredible road commands the view of both down into the valley and up to the Gotthard mountains are likely to prove unforgettable. This road is very popular among drivers from Europe but it's only open during the summer months. On the other hand, during winter the Oberalp Pass is closed to road traffic and the road itself is used as a ski slope, toboggan run and hiking trail.
From the pass head the road snakes down to Tujetsch, a municipal area in the district of Surselva in Canton Graubunden that also includes the village of Sedrun. This is the area holding the source of the River Rhine and although it has a modern air, it is steeped in tradition.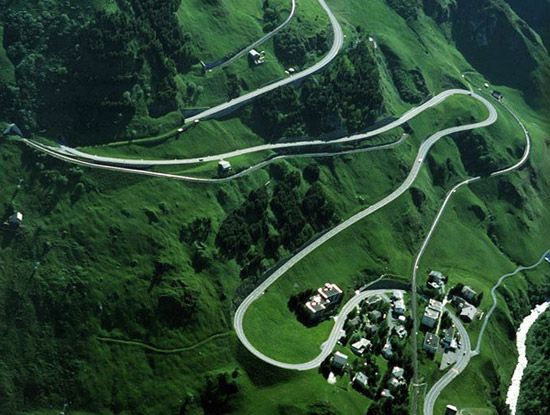 The public road that crosses the pass is being closed in winter, whereas the railway line of former Furka-Oberalp Bahn, now called Matterhorn-Gotthard-Bahn runs year round and provides a limited shuttle for cars in winter as well (reservation required). The closure depends on snowfall and differs therefore between end of October to beginning of December. Its opening in spring can be expected by the end of April but may also be happen by mid May. In Winter a ski area is stretching to the Graubünden side, connecting the pass well into the Tujetsch territory to Dieni, near Rueras. The Rhine springs from a source nearby (Tomasee), which is marked by a -working!- lighthouse. A multiday trekking route is signposted across Oberalp pass and along the young Rhine called Senda Sursilvana. Oberalpsee is located 20 m below, in the direction of Andermatt.