NINE HELLS OF BEPPU
Beppu is a city located in Ōita Prefecture on the island of Kyushu, Japan, at the west end of Beppu Bay. As of May 1, 2012, the city has an official population of 119,582 and a total area of 125.13 km², with a population density of 956 persons per km².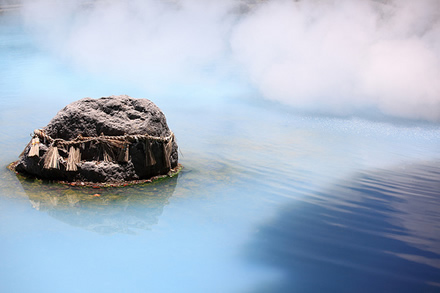 Beppu is a town located between the sea and the mountains. The city was founded on April 1, 1924, and is famous for its onsen (hot springs).
Beppu contains eight major geothermal hot spots, which are sometimes referred to as the "eight hells of Beppu". Six of these are located in the Kannawa district, and two in the more remote Shibaseki district. Beppu is also divided into eight major hot spring areas known as Beppu Hattō.
Beppu Hattō hot spring areas
Beppu Onsen
Kankaiji
Kamegawa
Shibaseki
Kannawa
Myoban
Horita
Hamawaki
Beppu is part of the course of the annual Beppu-Ōita Marathon, which traces a path between Beppu and its neighbouring city of Ōita. The competition has been held every year since 1952 and is classed as an IAAF Silver Label road race.
Shidaka lake is located 600 meters above sea level.
Otobaru Waterfall is a local natural attraction, located in the mountain area of Beppu city, 20 minutes' walk from Wonder Rakutenchi, a traditional amusement park.
Takasakiyama Monkey Park is located 10 minutes from the centre of Beppu by bus. The park is home to more than 1500 Japanese macaques.
Kijima Kogen is a resort which includes an 18-hole golf course and hotel alongside an amusement park. It is located on a plateau en route to Yufuin.
Beppu has not only usual hot springs but some sand and foot baths as well. One famous spot is "Beppu Kaihin Sunayu, Ashiyu", ("Beppu marine beach sand bath and foot bath"). It is 15 minutes by bus from Beppu station, on Route 10.
Beppu Park is located in the center of the city, a 15-minute walk from Beppu Station.
Beppu Fireworks Festival, held in late July, is one of the biggest fireworks displays in Oita. Five thousand fireworks are set off from boats floating on Beppu Bay.