Health Benefits of Drinking Coffee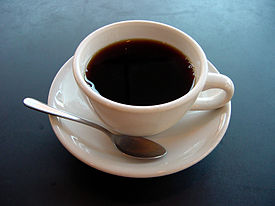 Coffee is one of the world's most popular drinks, nowadays, with over 400 billion cups consumed every year. The potential health benefits associated with drinking coffee include: protecting against type 2 diabetes, Parkinson's disease, liver disease, liver cancer, and promoting a healthy heart.
The primary psychoactive chemical in coffee is caffeine, an adenosine antagonist that is known for its stimulant effects. Coffee also contains the monoamine oxidase inhibitors β-carboline and harmane, which may contribute to its psychoactivity
1) Decreased Death Rate: In 2012, the National Institutes of Health–AARP Diet and Health Study analysed the relationship between coffee drinking and mortality. They found that the amount of coffee consumed correlated negatively with risk of death, and that those who drank any coffee lived longer than those who did not.
2) Good For Heart: Coffee is no longer thought to be a risk factor for coronary heart disease. A 2012 meta-analysis concluded that people who drank moderate amounts of coffee had a lower rate of heart failure, with the biggest effect found for those who drank more than four cups a day. Moreover, in one study, habitual coffee consumption was associated with improved vascular function
3) Coffee could lessen the symptoms of Parkinson's disease: Researchers in the U.S. carried out a study that assessed the link between coffee consumption and Parkinson's disease risk. The authors of the study concluded that "higher coffee and caffeine intake is associated with a significantly lower incidence of Parkinson's disease".
4) Coffee may protect against type 2 diabetes: Coffee may be protective against type 2 diabetes. Researchers at UCLA identified that drinking coffee increases plasma levels of the protein sex hormone-binding globulin (SHBG). SHBG controls the biological activity of the body's sex hormones (testosterone and estrogen) which play a role in the development of type 2 diabetes.4
Dr. Simin Liu, one of the authors of the study, said that an "inverse association" exists between coffee consumption and risk for type 2 diabetes.
Increased coffee consumption may reduce risk of type 2 diabetes – the Harvard School of Public Health (HSPH) researchers gathered data from three studies. In these studies, the diets of the participants were evaluated using questionnaires every 4 years, with participants who reported having type 2 diabetes filling out additional questionnaires. In total, 7,269 study participants had type 2 diabetes.
The researchers found that the participants who increased their coffee intake by more than one cup a day (on average, an increase of 1.69 cups per day) over a 4-year period had an 11% lower type 2 diabetes risk over the subsequent 4 years, compared with people who did not change their intake.
5) Coffee may lower the risk of liver cancer: Italian researchers found that coffee consumption lowers the risk of liver cancer by about 40%. In addition, some of the results suggest that if you drink three cups a day, the risks are reduced by more than 50%.7. The lead author of the study, Dr. Carlo La Vecchia, from Milan's Istituto di Ricerche Farmacologiche Mario Negri, said "our research confirms past claims that coffee is good for your health and particularly the liver."
The Cons of Coffee Drinking
The potential health benefits of drinking coffee are exciting news, but that doesn't mean more is better. For some people, coffee can cause irritability, nervousness or anxiety in high doses, and it can also impact sleep quality and cause insomnia. In people with hypertension, coffee consumption does transiently raise their blood pressure–although for no more than several hours–but no correlation has been found between coffee drinking and long-term increases in blood pressure or the incidence of cardiovascular disease in patients with pre-existing hypertension.
Caffeine affects every person differently, so if you experience any negative side effects, consider cutting your coffee consumption accordingly. It takes about six hours for the effects of caffeine to wear off, so limit coffee drinking to early in the day, or switch to decaf, which only contains about 2 to 12 mg of caffeine per eight ounces. Always taper your coffee consumption gradually. Avoid quitting coffee cold turkey; doing so can lead to caffeine withdrawal symptoms that may include severe headache, muscle aches and fatigue which can last for days.