Frozen Air Bubbles in Abraham Lake
Abraham Lake is an artificial lake on North Saskatchewan River in western Alberta, Canada.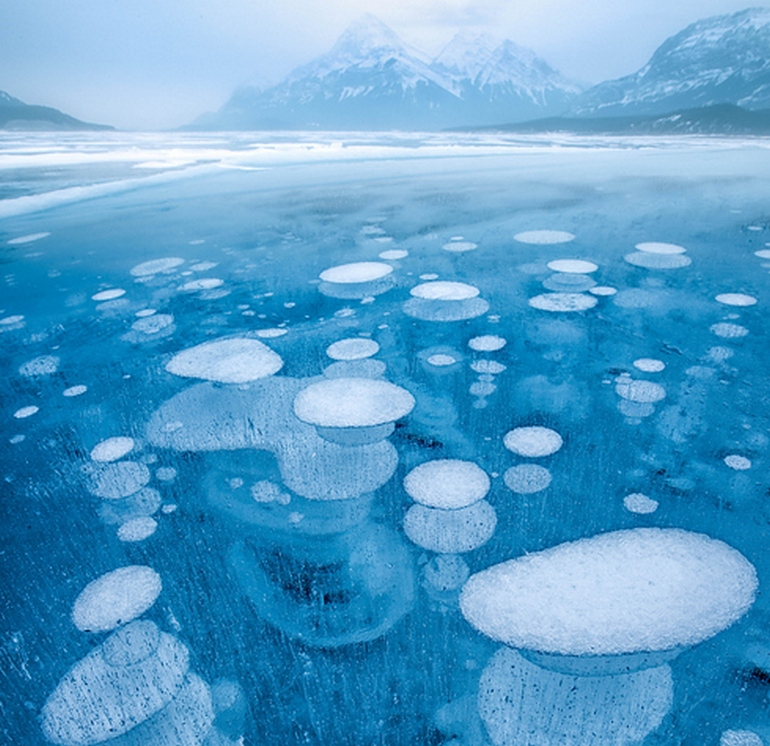 Abraham Lake was created in 1972, with the construction of the Bighorn Dam. The Government of Alberta sponsored a contest to name the lake in February 1972, during the final stages of construction of the Bighorn dam. Students across the province were asked to submit names taking into consideration "historical significance, prominent persons, geography and topography, and the value of the lake." It was named for Silas Abraham, an inhabitant of the Saskatchewan River valley in the nineteenth century.
Although man-made, the lake has the blue color of other glacial lakes in the Rocky Mountains, which is caused by rock flour as in other glacial lakes.
Abraham Lake is home to a rare phenomenon where bubbles get frozen right underneath its surface. They're often referred to as ice bubbles or frozen bubbles. This has made the lake famous among photographers.
Photographer Fikret Onal explains the phenomenon: "The plants on the lake bed release methane gas and methane gets frozen once coming close enough to much colder lake surface and they keep stacking up below once the weather gets colder and colder during the winter season."