Lake Hillier – Australia
Lake Hillier or Pink lake is located in Australia, is about ten times saltier than the ocean. The salinity attracts salt-loving algae and archaea that bear a pink hue.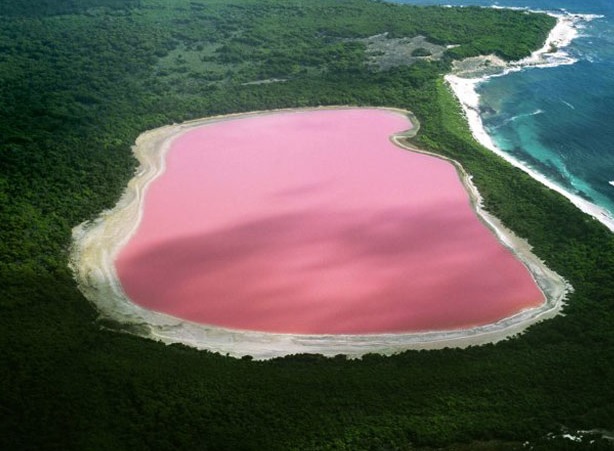 Lake Hillier is about 600 metres (2,000 ft) in length by about 250 metres (820 ft) in width. The lake is surrounded by a rim of sand and a dense woodland of paperbark and eucalyptus trees with a narrow strip of sand dunes covered by vegetation separating its northern edge from the northern coast of Middle Island. The most notable feature of the lake is its pink colour. The vibrant colour is permanent, and does not alter when the water is taken in a container.
The source of the pink colour is considered to be due to the presence of the organism Dunaliella salina. Air is the best mode of transportation for viewing the lake.
Despite the high salt content levels, Lake Hillier is safe to swim in. However, there are very few ways to reach Lake Hillier. Helicopter is one of the most common methods of travel. Cruises are also an option for passengers wanting to visit the isolated lake, and surrounding forest area.