Top 10 Unexplained Mysterious Structures On The Earth
This list include top 10 most mysterious structures around the world, the origin and purpose of these structures is still a puzzle for modern scientist. Some people believe that these structures are created by ancient aliens technology.
1. Plain of Jars, Laos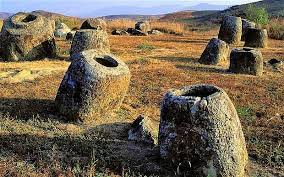 The Plain of Jars is a megalithic archaeological landscape in Laos. It consists of thousands of stone jars scattered around the upland valleys and the lower foothills of the central plain of the Xieng Khouang plateau, Xieng Khouang.
More than 90 jar sites have been identified within the province of Xieng Khouang. Each site has from one to 400 stone jars. The jars vary in height and diameter between 1m and 3m and are all hewn from rock. Their shape is cylindrical with the bottom always wider than the top. The stone jars are undecorated, with the exception of a single jar at Site 1. This jar has a human "frogman" bas-relief carved on the exterior. Parallels between the "frogman" and the rock painting at Huashan in Guangxi, China have been drawn. The Chinese paintings, which depict large full-frontal images of humans with arms raised and knees bent, are dated to 500 BC–200 AD.
Lao legends tell of a race of giants who inhabited the area and who were ruled by a king, named Khun Cheung, who fought a long and ultimately victorious battle against an enemy. He supposedly created the jars to brew and store huge amounts of lau hai ("lau" means "alcohol", "hai" means "jar"—So "lau hai" means rice beer or rice wine in the jars) to celebrate his victory. Another local story states that the jars were molded from natural materials including clay, sand, sugar, and animal products in a type of stone mix. This led the locals to believe the cave at Site 1 was actually a kiln, and that the jars were fired there and are not actually hewn from stone.